Christmas is quickly approaching, and as usual, I like to get my gift buying and wrapping done early.
As a hearing mom to a deaf baby, I decided to Google "gifts for deaf babies" in hope that I would be able to get fresh and new ideas for Benji. I do this every year.
But like every other year, I was disappointed to see nothing new.
So, I started to shop around and came across many toys that a baby or younger child may enjoy.
This post may not help all of you, as the majority of you have hearing babies, but I'm sure they may like some of these toys too. I am writing it mostly for me (so I can remember the stuff I want to buy him!), but also in hopes of helping another mom who just got the news her baby is deaf and needs to find something her baby will love.
The ages aimed for here are from about a year to three. Also some require adult supervision.
GIFT IDEAS FOR A DEAF BABY/INFANT:
I've noticed that Ben is very captivated by lights. Fireworks, lamps, flashing lights, Christmas lights. If you have an iPad there are some really great apps that are easy to use and visual stimulating. But that's a whole different post.
Here are some ideas of light up toys your baby may enjoy:
Uncle Milton Rainbow in my Room
This looks so fun! We don't have this, but I'm betting Benji would love it.
KinderGlo T-Rex Night Light
We actually have a similar toy my SIL and BIL gave Ben two Christmases ago. He really enjoys it. And because the body is a soft (but not squishy) plastic that stays cool to the touch (even after hours of being on) Ben can actually handle it all by himself and by tapping it, can turn it on or off.
Best night time toy we've got.
Twilight Turtle
This is very cute. You can chose from 3 color settings, blue, green and amber. It turns itself off after, I think, 20-30 minutes. Ben used to be a bit scared of the pitch black darkness at night and this helped. But since it shuts off, we needed something more. So we got the toy I just mentioned (see above).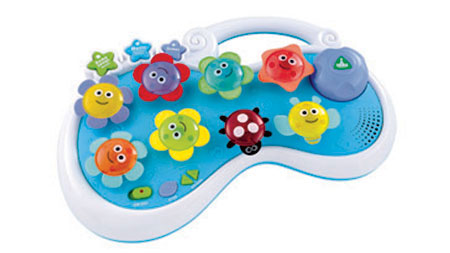 Music Garden
This one apparently plays music, BUT it also has flashing lights. It's a great cause and effects toy. Turn a flower and lights come on. Push a flower and some more lights. We don't have this one, only because I can't find it here in Canada. But it seems like a great toy to have.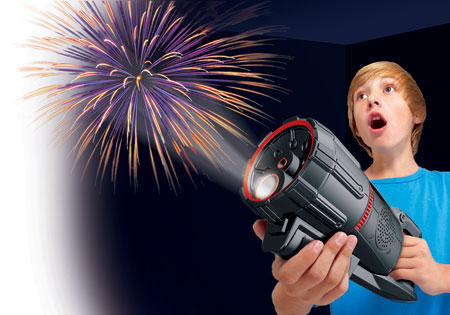 Fireworks Light Show
Baby won't be able to do this all by him/her self. But I imagine that this would be great fun for baby to watch while you put on your very own fireworks display safely, and indoors.
Ben loves fireworks. I think he would enjoy this.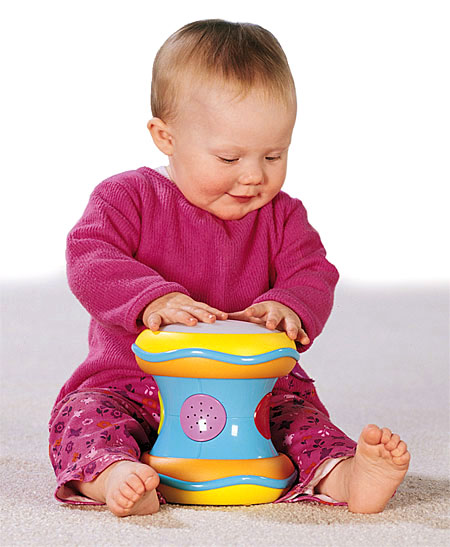 Flashbeat Drums
Ben borrowed this toy for a couple of months. He is very reluctant to touch new things (never mind bang) so this didn't go over too well with him. However, my friend's baby LOVED it. The baby is hearing but since the drum plays music AND lights up when banged, this would be good for any baby.
Some other toys you may want to consider are toys with different textures. Things they can touch and rub and explore that will be interesting and different.
Here are a few ideas of tactile toys: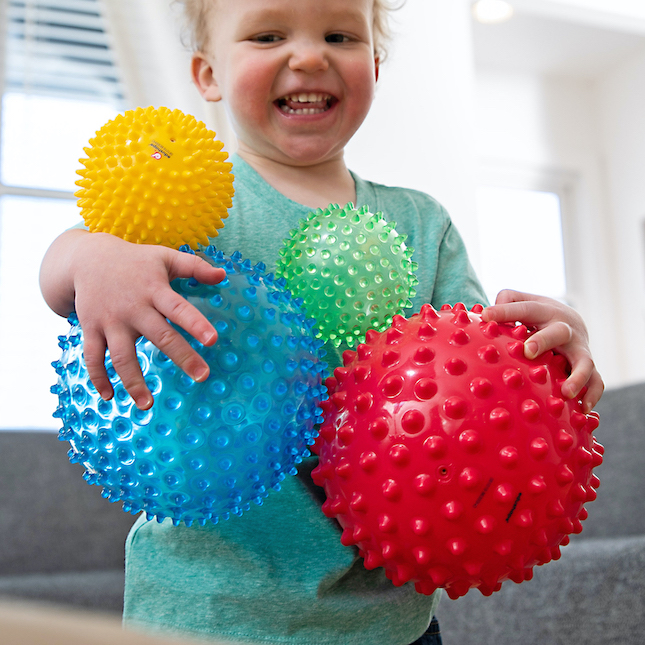 Sensory Balls
We have these. Ben enjoys holding them, passing them from hand to hand and if I catch him at the right time, he likes to have them gently rubbed up and down his arms or back. But it tickles when done on his tummy :)
Orbeez Magic Maker
(found
at Sears
)
I haven't bought the actual Orbeez, since they seem a bit expensive, but I bought the ones used for flower pots at the local flea market. Seriously...the EXACT.SAME.THING. This will require constant adult supervision as you don't want them to swallow any. But if you sit with them on your lap, and a bowl full of these slimy, watery, fun little balls, I guarantee they will LOVE it. (Be somewhere without carpet, they may throw a few!)
Play Doh
Play-Doh is king at our house. Ben knows and responses to some sign now but very rarely ever uses it himself. However, when he plays with playdoh, he will always sign "more" and "yes"! He enjoys squishing it, molding it, digging his fingers into it, and if I'm not watching, he will try to eat it! Which is how he learned the sign for "NO!"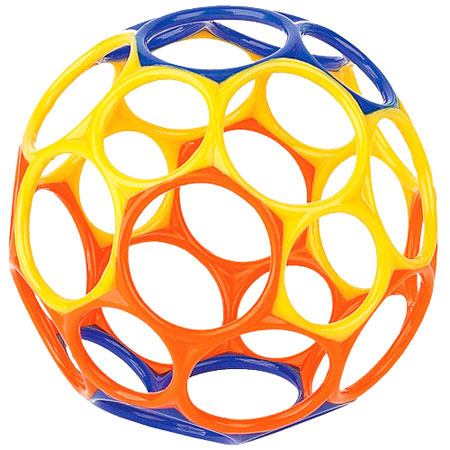 Oball
(you can find these everywhere)
We have like 5 of these. Some with beads, some without. All of them are thoroughly enjoyed. Good for little fingers to get into and flexible enough for little arms.
A good toy to clip to your stroller.
He and big brother play with these a lot. A sort of throw and catch game :)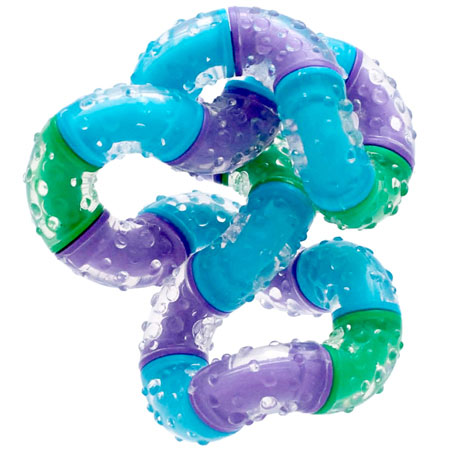 Tangle Therapy
Ben is going to be getting this in his stocking this year. It's actually really fun to handle. The surface is a smooth plastic with tiny bumps and it moves in such random ways. I know he'll emjoy it.
Another variation of it is: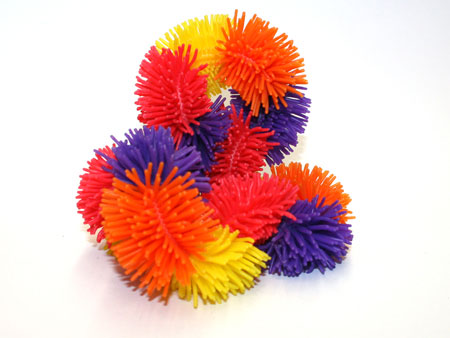 I could go on and on. But I feel this is getting a bit long so I'll wrap it up. I'm trying to do this before nap time ends and I have to rush to get my oldest from school, so gotta hurry.
Some other good toys are:
Wooden Activity Cube by Alex
I don't have this, but we've played with it at other peoples houses, and he likes it. He doesn't really know what to do with it, lol, but that comes with practice.
Power Stretch
Ben loves to look at himself in the mirror (or iPad!) and make funny faces. I could see him liking this. (Plays sound when pulled taut, I wish it vibrated too)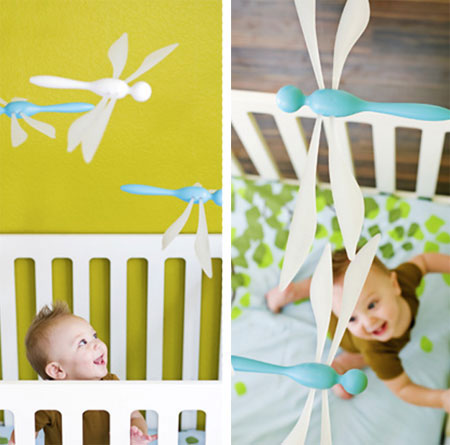 Fli Ceiling Mounted Dragonfly Mobile
How perfect are those dragonflies?! I think ANY baby would love these! (they flutter their wings and "fly" around! How precious)
Cleaner than markers, and just as fun. This is for older babies, obviously. And you probably will need to help them a bit. But still, how fun! We don't have this, but I'll be buying this during Black Friday!
I'm going to leave it there. I was about to make a whole new category for low-tone babies buuuut, my time's up.
So real quick, here are a few more ideas that have Benji's seal of approval!
Other ideas:
-anything soft with mirrors
-soft toys that vibrate when baby pulls on it
-bright colored multi-texture toys, the kind every baby likes. Like Taggies.
-finger painting (when old enough)...be prepared for a mess of epic proportions.
-Board books on Animals, Colors, ABC's with big colorful picture showing object. Good for teaching sign.
-Crib Mobile that moves
-those crib "aquariums" that have plastic fishies that move when baby pushes on big button the outside. Ben loves his, he actually turns it on by himself if he wakes up at night. So sweet.
-Infant Swing
-Soft "Quiet" books with flaps and pull out parts, zippers and velcro. We have some Sesame Street ones he loves.
-Bubbles. We have two bubble maker machine Ben loves to watch.
-Cause and effect toys. I prefer the ones that light up, vibrate, or move to the ones that play music. But that's because Benji is also profoundly deaf so he gets zero auditory feedback from any that ONLY play music. If it's music and lights, that's fine. As long as he sees that he made it do something. Noah loved the music ones, tho.
- DIY laminated flashcards with family members pictures, pictures of food, pictures of favorite toys, places, people, activities. These are good for early communication (or if they are not picking up sign as readily or quickly as hoped for), BUT also good for teaching signs for the things that are in baby's everyday life.
Please know, I don't pretend to be an expert, and I am not a deaf person so I don't have first hand experience with these toys. I can only write what I've noticed works for or delights Ben. And things I've learned along the way (almost three years now) through Ben's Dream Team (his OT, PT, Infant Specialist, Signing teachers, etc,.). Anyway, I hope you find it useful or helpful. I know I would have liked to know this the first Christmas with Ben or for his first birthday. And I know some relatives always ask me what he may want or like. Some have to told me they themselves google search it, only to com up empty handed. So here's hoping it helps someone. But really, there are so many fun things out there for deaf babies that will delight them and make them giggle, just keep your eyes open for them and change your perspective a bit. You'll start to see them everywhere!